About us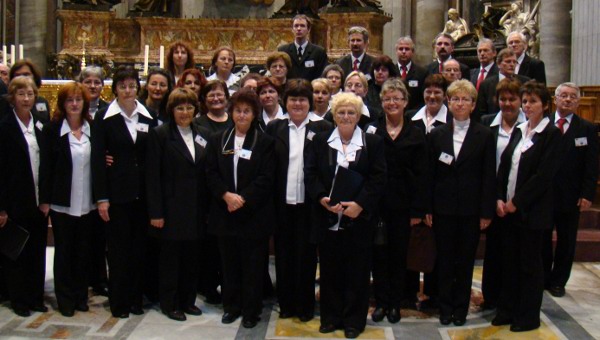 The Chamber Chorus of Csongrád was founded in the autumn of 1996. Its establishment was initiated by students who had missed every-day singing and the joy of music after leaving the Primary School of Music. Thanks to their help, the choir was formed. However, the circle of students became wider by adults who had studied years before at the school and sung again with pleasure in a choir while working. In two years' time this female choir was broadened with male singers. As a result, music-friends with different jobs can be found in the orchestra with a membership of 40, which has now outgrown a chamber orchestra status.
The Chamber Chorus did not only involve the happiness of collective singing and the joy of members being together but furthermore contributed to Csongrád's musical life. While working together with the Galli János Elementary School of Art, organizing regular programs; advent, carnivals, Pentecost, teacher concerts; but can be heard at independent performances.
The Csongrád Choir Event is organized occasionally, inviting many other choirs to take part in this function.
It is usually intended to introduce a cultivated and tasteful way of singing, to undergo the elevating feeling of singing without any tension and to pass this feeling onto the inquiring music lovers.
The attraction of singing together has been experienced during several native and abroad concerts since the formation of the choir. There was a memorable concert in 2001, the appearance at Couzex, in France where the choir met with success by works of Hungarian composers on a festival organized in respect for Hungarian Days. The chorus arrived home from Transylvania with permanent and memorable experiences in August, 2005 where it took part in the choir event on the proposal of the Saxon Reformed Church Choir. In November 2010 the choir - as a member of the International Liszt Choir - participated in the premier of Ferenc Liszt's Missa Choralis (the "Vatican Version") in Rome. This masterpiece had also been performed in Albano, Italy.
The chorus has a gold qualification.
In December, 2006, at its 10th anniversary, its name was changed to the Csongrád Music Friends Choir, using a new logo as well. The new name was justified by the increased number of members, which had outgrown a chamber chorus.
The leaders of the choir are Attiláné Túri and Zsuzsanna Varga.